Upcoming Events at EAA
Friday, November 2, 2018 at 11:49AM
Webmaster
Thanks for checking out the EAA Spirit newsletter! EAA is a nonprofit organization dedicated to keeping members inspired and growing participation in aviation.

As you read, we hope you'll find a story that inspires you — one that compels you to seek out aviation adventures, again and again. Because no matter your level of interest, we're here to help you explore your passion. So, do you have planes on the brain? Well then, welcome home!

Never forget, you're what keeps aviation strong. If you're ready to become a member of the EAA family, we'd love to have you!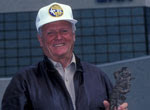 Ray Aviation Scholarship Fund Finances Training for Pilots
The Ray Foundation of Naples, Florida, is supplying $1 million for a youth flight training scholarship program that will work through EAA chapters. Read more →
---
Oshkosh in the Backcountry
There might be a tad more dust and desert in Nevada than in Wisconsin, but the atmosphere, camaraderie, and love for aviation felt all over the dry lakebed at the ninth annual High-Sierra Fly-In had quite the EAA AirVenture Oshkosh convention feel. Read more →
---
AirVenture Heats Up After the Air Show!
EAA AirVenture Oshkosh is filled with nonstop action and activities throughout the day, but it doesn't stop there. Once the sun sets, the fun heats up with a concert, fireworks, Twilight Flight Fest, and a balloon glow. Watch video →
---
Flight of the Condors
The story of two volunteer pilots and their extremely unusual passengers. How did two long-time Palo Alto Airport Association volunteers find themselves coincidentally flying out of Boise, Idaho with California condors? Full story →
---
Hitting the Beech (Party) With EAA
EAA staffers Jim Busha and Hal Bryan spent a few days in Tullahoma, Tennessee, working on a feature about the Beechcraft Heritage Museum and its annual Beech Party fly-in. The full story will be in an upcoming issue of Sport Aviation, but, in the meantime, thanks to the magic of cellphones, here are some of the sights and a few of the sounds they experienced. Watch video →
News
From Young Eagle to Airline Pilot
Alan took Renée on a Young Eagles flight when she was 13, and now she's an airline pilot. Full story →
Young Eagles Co-Chairman Highlighted by Fox Sports
Jimmy Graham, EAA 1139302, in addition to being an avid pilot, is also a tight end for the Green Bay Packers. Read more →
EAA Chapter 1202 is Teaching Through Building
EAA Chapter 1202 is helping students learn STEM skills in Virginia by having the students help build a Zenith. Full story →
Article originally appeared on In Flight USA (http://www.inflightusa.com/).
See website for complete article licensing information.