Tuesday, May 1, 2018 at 12:24PM
Webmaster
Thanks for checking out the EAA Spirit newsletter! EAA is a nonprofit organization dedicated to keeping members inspired and growing participation in aviation.

As you read, we hope you'll find a story that inspires you — one that compels you to seek out aviation adventures, again and again. Because no matter your level of interest, we're here to help you explore your passion. So, do you have planes on the brain? Well then, welcome home!

Never forget, you're what keeps aviation strong. If you're ready to become a member of the EAA family, we'd love to have you!
Preliminary AirVenture Schedule Now Live
The initial EAA AirVenture Oshkosh schedule is now posted! The schedule lists a number of AirVenture 2018's highlights, features and attractions, forums, workshops, special events, and more. Start planning your trip today! View AirVenture schedule of events →
---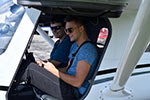 EAA Flight Training Scholarships Still Available
Offset your flight training expenses and gain your wings! We are still taking applications for several EAA flight training scholarships for 2018 and we encourage anyone interested in becoming a pilot to apply. Assorted EAA Air Academy scholarships are also still available. Questions can be directed to scholarships@eaa.org. Apply today →
---
Rapid GA Response Helps Scuttle ATC Amendment
By Mark Colbert, EAA 1033422

A rapid response by the general aviation community

on Tuesday

made a big difference in helping to eliminate a dangerous amendment to an FAA reauthorization bill in the House of Representatives. Read more →
---
Powered Paragliding Filmed by Google Satellite
By Mark Colbert, EAA 1033422

It was summer 2016 in Bridgeport, Connecticut, at Fayerweather Island, on Long Island Sound. The wind's speed was right and the direction was shifting in our favor. We had our gliders laid out and ready to jump into the onshore breeze with whirling two-stroke engines on our backs. We all flew that day. Full story →
---
SUN 'n FUN 2018 Recap
EAA staff were all over the SUN 'n FUN International Fly-In & Expo last week, talking with EAA members at our booth, meeting with partners, and gathering stories. Wandering the grounds and watching the air shows, our staff captured much of the event – here are just a few of our favorites. Watch video →
---
Second SpaceShipTwo Makes First Powered Flight
By Gerry Anderson

On April 5, Virgin Galactic's second SpaceShipTwo, VSS Unity, successfully completed its first powered flight high above the Mojave Air and Space Port (KMHV). The design is a descendant of Burt Rutan and Scaled Composites' SpaceShipOne, which won the Ansari XPRIZE for private spaceflight in 2004, and was built by Scaled spin-off The Spaceship Company. VSS Unity was released from the VMS Eve mothership at about 46,500 feet, then flew under rocket power for 30 seconds, reaching an altitude of more than 84,000 feet and a maximum speed of Mach 1.87. Virgin Galactic plans to offer space tourism flights in the near future. Watch video →


Pre-registration is required for all workshops and webinars.
We thank Aircraft Spruce & Specialty Co. for sponsoring our SportAir Workshop & Webinar Programs.